What is OSHA Dental Office Compliance?
OSHA regulations for dental offices include many of the same regulations for medical offices without a dental component. For example, healthcare providers, regardless of whether they are dentists, must comply with the OSHA Hazard Communication Standard, the OSHA Bloodborne Pathogens Standard, and the Personal Protective Equipment Standard. An OSHA regulation that specifically implicates dental offices, labs, and dental work, is the OSHA Beryllium Standard. OSHA dental office compliance with this standard is discussed below.
OSHA Dental Office Compliance: The OSHA Beryllium Standard
The element beryllium is added to base metal alloys for use in crowns, bridges, and partial denture frameworks. Dental technician inhalation of the dusts and fumes of beryllium-containing alloys may cause chronic beryllium disease (CBD), a severe lung disorder. OSHA dental office compliance therefore requires that dental employers follow the regulations in the OSHA beryllium standard. This standard requires employers to implement measures to mitigate exposure to beryllium alloys.
Interested in becoming OSHA compliant? Click here to learn more!
These OSHA dental office compliance guidelines include the following engineering controls:
Substitution of alloys that do not contain beryllium, for beryllium-containing alloys in dental work.

Using local exhaust ventilation whenever procedures related to casting, cutting, grinding, or polishing beryllium-related alloys are conducted.

Using vacuum systems and local exhaust ventilation systems that are equipped with high-efficiency particulate air (HEPA) filters.
These OSHA dental office compliance measures also include work practice controls, which consist of:
Using work practices that generate less dust, such as hand filing, for procedures that produce more dust, such as power grinding.

Prohibiting the use of compressed air to clean parts or working surfaces.

Monitoring employee exposure to airborne beryllium dust and fumes, using personal sampling techniques on a regular basis. Monitoring ensures beryllium exposure remains below the OSHA permissible exposure limit (PEL).

Limiting the number of workers who have access to areas where beryllium-containing alloys are being cast or fabricated.
OSHA dental office compliance measures also consist of use of personal protective equipment (PPE). Personal protective equipment used to minimize beryllium exposure includes:
Laboratory coats, booties, and other types of garments worn over an employee's skin, hair, or personal clothing. 

Respirators, which include any air-purifying full-facepiece respirator equipped with an N95, R95, or P95 filter. The following filters may also be used: N99, R99, P99, N100, R100, or P100.
OSHA dental office compliance also requires that employees observe common-sense safety measures, relating to hygiene and use of PPE: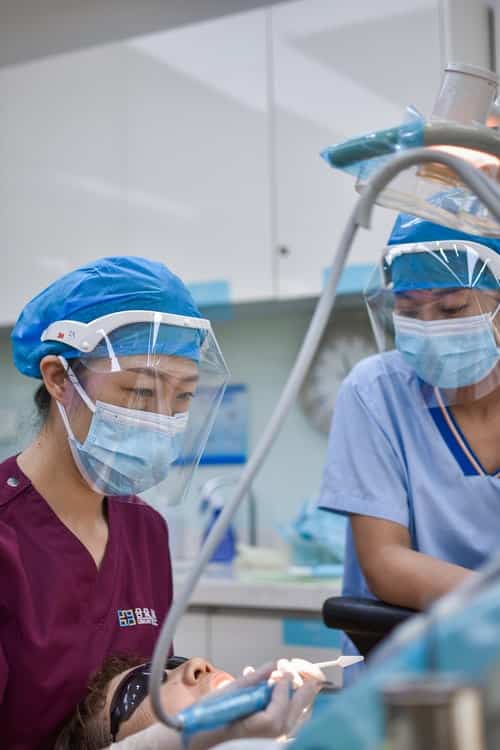 Employees must wash their face, hands, and forearms before eating, drinking, smoking, or applying cosmetics;

Employees may not take food items, drinks, cosmetics, or tobacco products into the work area;

Employees must use gloves and arm sleeves to minimize skin exposure;

Employees may not enter the eating area wearing protective clothing unless properly cleaned beforehand;

Employees must store street clothes separately from work clothes in a clean area;

Employees must keep their work clothes as clean as possible during the work shift;

Employees must vacuum their work clothing before removal (clothes must not be cleaned by blowing or shaking);

Employees must wipe off their shoes before leaving the work area if booties are not worn;
Employees may not leave the workplace wearing protective work clothing or equipment or take it home for laundering;

Employees must place work clothes in a covered container at the end of the work shift; and

Employees must wash their hands and face before leaving the worksite.
Finally, OSHA dental office compliance consists of employee training in: 
The specific nature of the operations in their workplace where exposure to beryllium-containing alloys may occur;

Safety Data Sheets (SDSs) for dental alloys containing beryllium;

The signs, symptoms, and seriousness of chronic beryllium disease;

The potential for developing lung cancer as a result of exposure;

The importance of avoiding skin contact with dust containing beryllium;

Methods that may be used to detect the presence of beryllium in the workplace, such as workplace monitoring; 

The results of any industrial hygiene sampling that the dental office or others have conducted for levels of beryllium in dental laboratories; and

The availability of a blood test, the Beryllium Lymphocyte Proliferation Test (BeLPT), to determine whether an exposed worker has become sensitized to beryllium.